Building a Tiki Bar to Create a Your Own Tropical Retreat
Tiki bars are authentic additions to any tropical-themed patio design.
Tiki bars are growing in popularity because of how well they instantly transport you to a faraway dream vacation. And what's great about a tiki bar is that you can incorporate tiki design into your patio regardless of where you live.
The materials used in a tiki bar or tiki hut can withstand both extreme cold and heat and they hold up well in all kinds of weather. And what's more, you can easily convert your existing patio area into a tiki bar with a few key essentials.
Building a tiki bar is a great addition to your backyard or patio and an excellent way to incorporate your own unique personality into your outdoor design. Whether you are a beginner or just appreciate the no-hassle convenience, tiki bar plans are available that can provide you with the simple, straightforward basics you can build upon to create a custom design.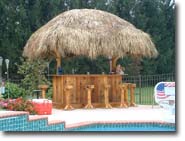 Think about the area you would like to use. Tiki bars come in a variety of sizes to accommodate your needs. Large bars can accommodate large gatherings, and smaller-sized bars work great in limited space.
Tiki bars are perfect for outdoor patios or poolside and come in a variety of shapes. Whether your patio is round, square, or long and rectangular, tiki bar set-ups can fit your design needs.
Once you picked your tiki bar plans, be sure to include tropical elements like bamboo, palm fronds, and thatched roofing. Palm fronds used in the thatched roofing so characteristic of tiki design can last 5 to 7 years, depends on your climate. Contrary to what you might think, wind is actually harder on your palm frond roofing than cold or rain, but mesh and netting can be purchased to keep the palm fronds in good shape for several years.
Also keep in mind when using thatched roofing that you need to take precautions to prevent fires. Set up tiki torches, for example, a safe distance away from your thatched roof. Aside from those easily-addressed concerns, a tiki bar is really low maintenance.
Accessories like tiki masks, statues, bamboo tiki torches, and tropical barware also add that authentic finishing touch. Incorporate bright, tropical colors through accessories like chair cushions. Bamboo tiki furniture, including bar stools, tables, and the tiki bar itself all add an island flair to your design.
So as you can see, with a few key elements and your own creative personal touches, you can create a tropical atmosphere at your home – and instantly transport yourself to an island oasis.
For more information on creating your tropical paradise, please read this article on building backyard tiki bars.